Cowbell experienced momentous, profitable growth in 2022, and none of it would have been possible without our stakeholders. Agents and brokers, policyholders, reinsurers, investors, and cybersecurity partners alike have helped us bring Cowbell to the next level and drive cyber insurance innovation. Here are some of our 2022 highlights:
Launched Cowbell Re
Cowbell started 2022 with an exciting announcement: our very own reinsurance captive, Cowbell Re. Cowbell Re is a natural step in expanding capacity, accelerating cyber insurance innovation, and, most importantly, a direct commitment to building a profitable risk portfolio by having some "skin in the game." 
With reported claims significantly lower than the industry average – having our own captive represents our commitment to continue to apply the utmost discipline in underwriting for cyber but also partner with our policyholders to keep them safe through our closed-loop approach to risk management. We are actively supporting all policyholders in their efforts to improve their cybersecurity: continuous cyber risk assessment, active support from our risk engineering team, our vendor marketplace, Cowbell Rx, cybersecurity awareness training, and more. Check the growing list of risk management resources bundled with each policy.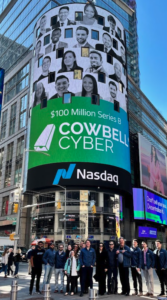 Closed $100 Million Series B Funding Round
In March, Cowbell closed an astonishing $100 million series B funding round, and to celebrate, we advertised it on the NASDAQ on Times Square. We also used the opportunity to pay tribute to all the Cowbellers that got us there. 
The funding round was led by Anthemis Group, with participation from Permira Funds, PruVen Capital, NYCA Partners, Viola Fintech, and all existing investors. This funding further reinforced our vision for a modern approach to cyber insurance based on technology, data, and AI.
Doubled Underwriting Capacity with Palomar
Only a few months after our funding, we made another big announcement. Extending our partnership with Palomar, we were able to double our underwriting capacity for Prime 250 (our cyber insurance product intended for businesses with between $100m and $250m in revenue). 
The agreement with Palomar is a multi-year commitment and increases Cowbell's reinsurance panel to nine providers, including Cowbell Re. 
Pioneered Adaptive Cyber Insurance
Adaptive cyber insurance has been a huge part of the cyber insurance innovation that took place in 2022. 
Cowbell launched the concept of adaptive cyber insurance in Q3 of 2022, an innovative approach to cyber insurance that will change the industry forever by giving policyholders tangible incentives to improve their cybersecurity. 
Adaptive cyber insurance enables policies to adapt throughout their lifecycle based on the cyber risk profile of the policyholder. Coverages can change, and premium credits can be achieved through implementing cybersecurity practices that reduce risk exposures. 
Together with adaptive cyber insurance, Cowbell also announced the formation of its carrier,  Cowbell Speciality Insurance Company (CSIC). CSIC will enable our current and future innovations surrounding tech-enablement and innovation in the cyber insurance market, supporting our cyber insurance programs together with Cowbell Re and 15 other carriers and reinsurers. 
Established Cybersecurity Advisory Board and InfoSec team
In December, Cowbell announced the launch of its Cybersecurity Advisory Board (CSAB). Expertise in the CSAB includes CISOs, cybersecurity visionaries, former military officers, writers, public speakers, and attorneys. The creation of the board accelerates Cowbell's mission to strengthen cyber resilience in the small and medium-sized enterprise (SME) market through cross-industry innovation between cyber insurance and cybersecurity.  
Members of the CSAB will provide input on Cowbell's cyber insurance programs, trends in cybersecurity, and new threat developments that impact SMEs. They will also offer their expertise on how to best support policyholders in their efforts to strengthen their cyber resilience.
The CSAB is a significant milestone to support Cowbell's expansion into new markets. With the addition of its new council and recent hires of Matthieu Chan Tsin, Director of Threat Intelligence, and Sam Sawires, Director of InfoSec, Cowbell will continue to thrive as a cross-industry innovator, building solutions at the intersection of insurance and cybersecurity, and driving cyber insurance innovation across the country. 
Engaged with the Public Sector 
Cowbell is committed to making U.S. businesses safer and more resilient by closing the insurability gap for cyber, as well as contributing to good governance. This is exemplified by partnerships between the private, public, and nonprofit sectors for the common good. 
In the wake of Cybersecurity Awareness Month, Cowbell hosted its inaugural Cyber Insurance Day in Washington D.C., with speakers from federal agencies, non-profit organizations, and the private sector. Convening speakers from these backgrounds allowed for insightful discussions about opportunities to improve the cyber resilience of SMEs through cyber insurance and cyber incident preparedness. 
Those familiar with The Cowbell Factors podcast may view this event as a scaled-up podcast episode in real life, bridging the gap between cybersecurity and cyber insurance for agents, brokers, and policyholders alike.
Apart from the Cyber Insurance Day, Cowbell has participated in a Federal Advisory Committee on Insurance meeting hosted by the Treasury's Federal Insurance Office (FIO), became a National Member of the Small Business Digital Alliance (a joint initiative from the SBA and Business Forward), co-hosted an event with SBA Administrator Guzman, and regularly met with several cybersecurity / SME-focused nonprofit organizations.   
Cowbell has made a big impact in the cyber insurance market this past year. And we're far from done. If you want to keep up with Cowbell, follow us on LinkedIn. We wish you all a good start to 2023.