Cowbell Factors™:
Continuous Insight for Risk Managers
Cowbell Factors use inside-out and outside-in data, a library of insurable threats, and artificial intelligence to develop risk scores that quantify your insurance needs.
Every Cowbell Factor is a rating index that contributes to the evaluation of your organization's cyber risk—and appropriate insurance coverage. The Cowbell Cyber platform guides you to select an insurance policy to match your insurable security threats. Unlike traditional methods, Cowbell Factors apply continuous observation to map exposure and impact.
Talk to your broker about the Cowbell solution.​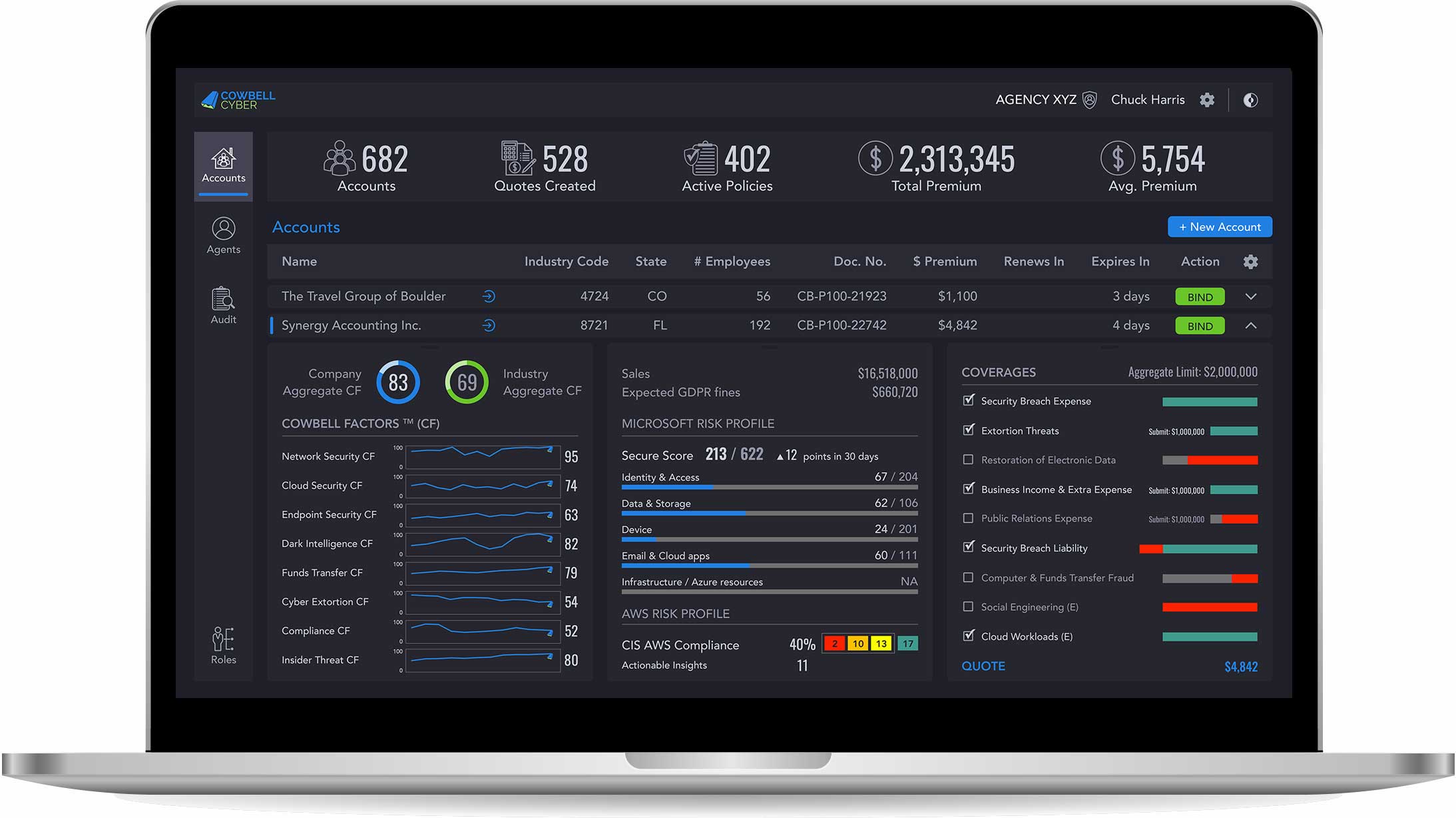 Expedited Quoting For Brokers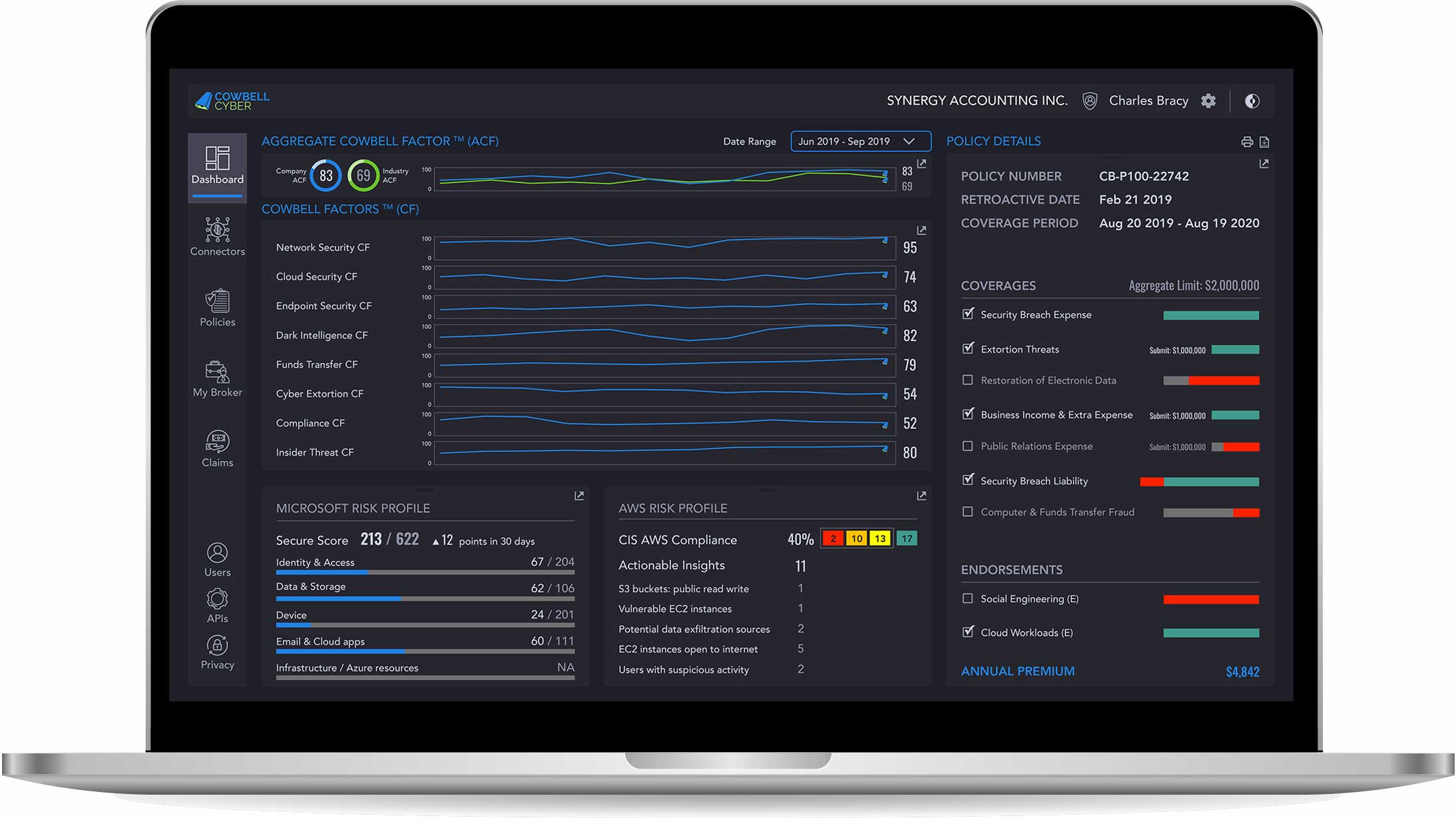 Relevant Coverage for Policyholders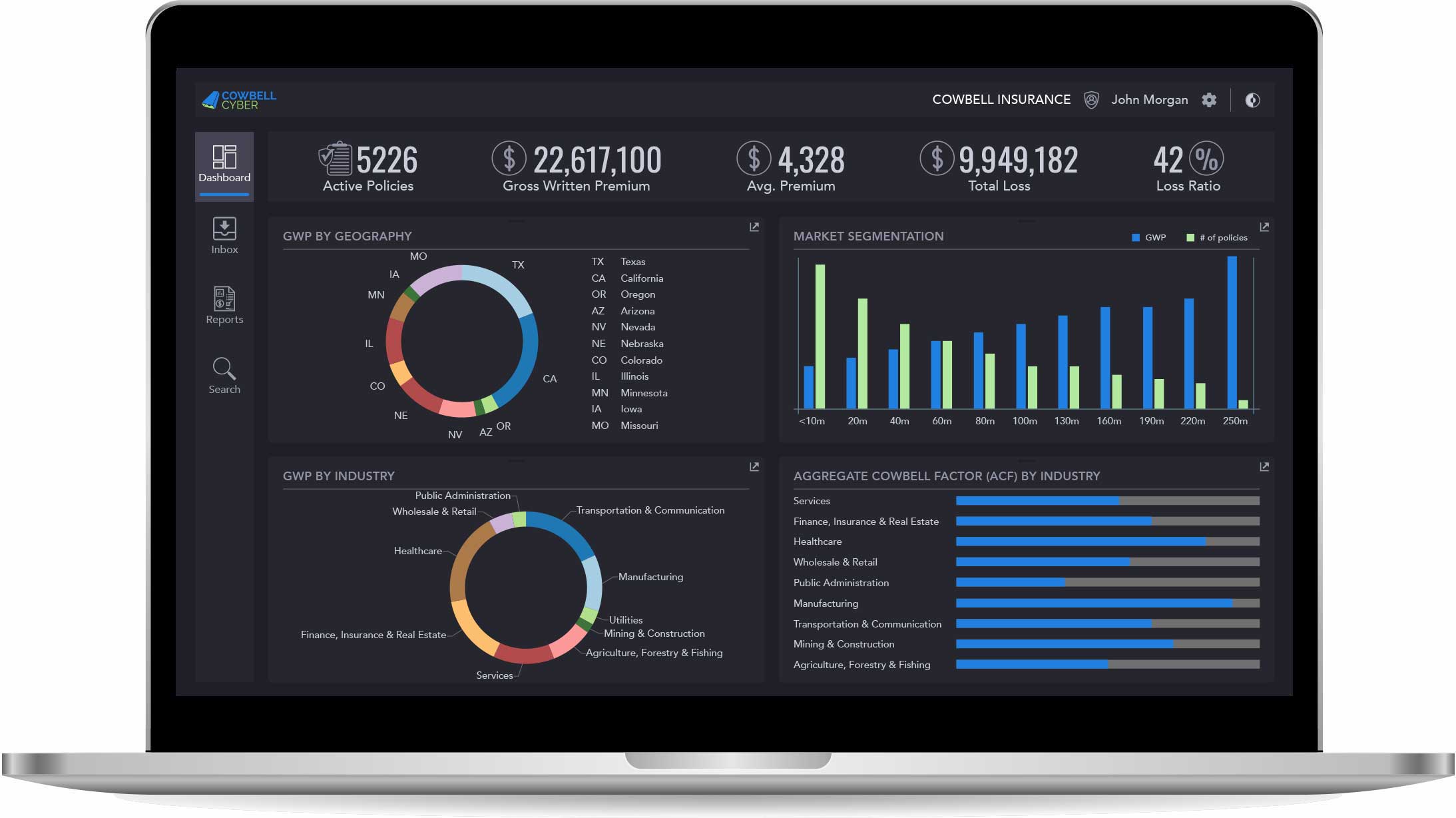 Aggregated Risk Analysis For Reinsurers
Loss Cost
Insights from hundreds of thousands of cyber loss cases
Outside In
Risk signals from internet-facing infrastructure
Inside Out
Your organization's inside-out cyber security posture
Dark Web Intelligence
Scans of the dark web for potential cyber threats
Business Interruption
Years of industry-specific business interruption data
Regulatory Compliance
Data related to NIST, CIS, CCPA, and GDPR readiness
The Unique Cowbell Approach
Response, recovery, and residual phases in the aftermath of cyberattacks shift attention to the quantification of risk. Cowbell Factors assess insurable threats and maps them to risk exposures, on a continuous basis, leveraging both inside-out and outside-in data sources. The result: a cyber insurance policy tailored to your risk and business needs.
Cowbell quantifies security threats—augmenting them with probability and severity of risk exposure.
Using your unique Cowbell Factors, choose coverage that matches your risk exposure and risk transfer needs.
While Cowbell Factors quantify your organization's security risk, detailed remediation guidance helps improve insurability.
Used as an early detection signal for risk transfer, your Cowbell Factors ensure your premiums cover your insurance needs.
Activate Robust Cyber Resilience
Cowbell overcomes the challenges of traditional cyber insurance: the correlated nature of security breach risks, the imperfect ability to prove loss to an insurer, and the inability to observe cyber self-protection efforts.
Cowbell Factors-inspired confidence in underwriting enables higher limits for appropriate coverage.
Real-time visibility of risk exposures increases overall premium adequacy and allows ongoing coverage review.
CLOSING THE INSURABILITY GAP
Continuous innovation introduces coverage for cloud workloads, mobile threats, social engineering, and more.
Apply Cowbell Factors to Your Business